Design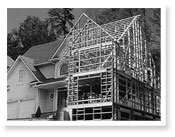 We keep in the forefront of user ergonomics and desires in designs, prepared by experienced architects of EV-SA. We can respond to your needs with a type of project can produce tailor-made projects for you. Dynamic and static analysis of all projects;
Regulations About Buildings in Disaster Areas  (1997 Earthquake Specifications)
AISI – LFRD 1996 edition; AISI (American Iron and Steel Institute) Cold-formed steel structural elements sizing standard (Specification For The Design of Cold Formed)
TS 648 account and construction rules of Steel Structures.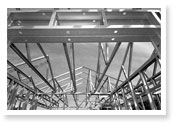 Wall panels are calculated as vertical bearers in light steel structures.
The OSB panels on the whole building surface restrict the buckling of the wall carrier elements and ensure that elements work together under earthquake and wind. The panel coatings used in the floors are used as floor stiffeners. The effects of the earthquake and wind loads are avoided with wall panels that have been formed using the cross connectors.
All the created panels' heat insulation values are examined according to TS825 Building Heat Insulation Rules.
Production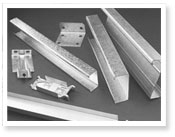 Building profiles that manufactured in our plant are obtained made of cold-formed galvanized steel sheets with hot dip technology. The designs and calculations of the buildings to be manufactured are produced from our technical office and the geometrical properties of each profile constituting the building are produced with zero error by our computer aided machines in our production facilities.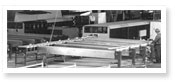 Profile sections are 0.5 mm to 3.0 mm thickness and U, C, L, Z in the figures. The wall formed by the assembly sequence, profile combinations in the ceiling and roof panels are provided with rivets and screws. Installation holes in the profiles are drilled by the machine in the projected points. In this case loss of endurance due to the unnecessary opening of each of the profiles to be used is prevented.
There is no need to cut or modify the profile in EV-SA site environment.
In our production facilities, not only the building carcass is produced, but also all the PVC, aluminum window and door units to be used in the building, louvre systems, building chemicals containing insulation and insulation are produced by participating companies.
Assembly
The EV-SA expert installation team will build your building in maximum sixty days. Domestic walls, floors, roof panels and building carcasses that came to the building site are established with minimum work force and time.
There is no need for welding or cutting during installation. The main assembly of panels is anchored with galvanized coated accessories produced by our company. Panel joints use special bolts.
Since all the installation holes are opened in the production stage in the factory, labor saving is achieved. water and heat insulation coatings, electricity, clean water, sewage, heating and cooling systems, gypsum panel coating of inner walls, installation of windows and doors, marble and ceramic coating, painting of all exterior surfaces are covered by OSB panels, are made by the installation teams of specialized EV-SA Steel Structure Systems.